Don't give up on what you can't do, pursue what you can
Hello! This is Morita.
I have been working as a student intern at Japan Heart Cambodia for three months.
Right now, I would like to look back on my three months of internship activities.
As a non-medical student, I often felt helpless and troubled during my activities.
However, as time went by, I was able to focus on what I could achieve and try to make it as meaningful as possible.
Looking back now, I think that was a big lesson for me.
I began my internship at Japan Heart because I wanted to pursue a career in the social sector in developing countries.
I wanted to gain experience and hints for my future career by interning at overseas NPOs, NGOs, and social enterprises.
One of the things I wanted to accomplish through my internship was to work closely with local people to achieve something.
However, as soon as I started my activities, I realized that this expectation was much more difficult than I had imagined.
It is obvious to think about it now, but at the time I did not take it seriously, thinking that I would be able to gain some firsthand understanding.
As soon as I started working there, I was forced to think deeply about the meaning of my activities at the hospital.
Patients come to the hospital, and it is the doctors and nurses who treat them.
In contrast, I was confronted with the obvious fact that I was just a Japanese university student who knew nothing about medicine.
As soon as I arrived in Cambodia, I began to wonder why I had come here. Is there anything I can do for the patients? I was thinking about these things every day.
Thankfully, I was entrusted with the important job of public relations, and while I strongly felt the significance of my activities as I was playing a major role in influencing the expansion and survival of the project, I couldn't help but feel frustrated that I couldn't do anything directly for the patients.
Then, when I was interviewing patients as part of our PR activities, I unexpectedly got an idea of what I could do. It was the approach of mental health care, which Japan Heart has also adopted as its activity philosophy.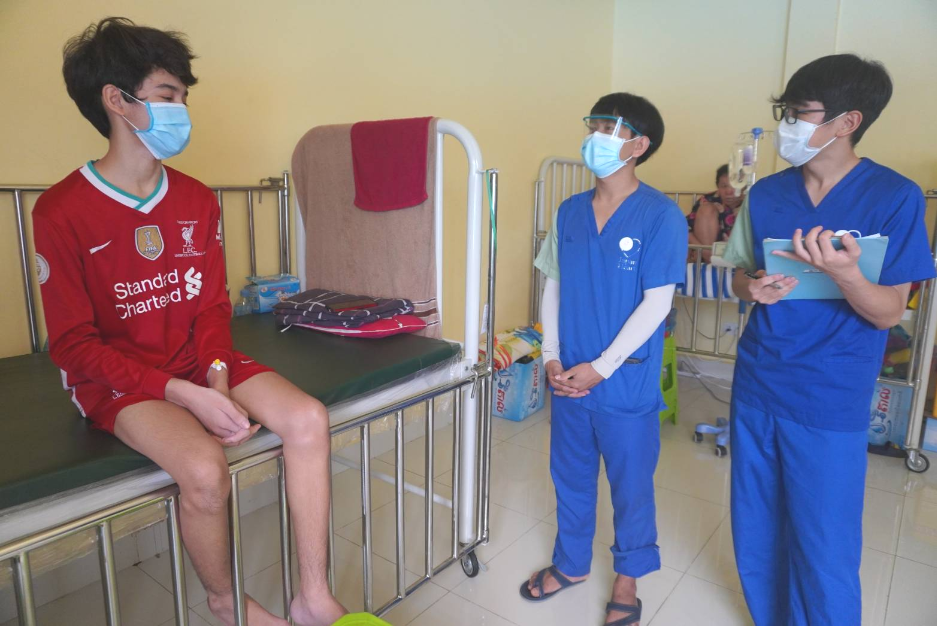 At the hospital, there are many strong children who are facing painful cancer treatment.
They spend their days getting along well with other patients and are full of energy, but it is also true that there are various restrictions in their lives at the hospital.
While interviewing the children and their families, I found out that their lowered immunity prevented them from going outside the hospital, which meant that they had few opportunities to experience new things, and that not only the patients themselves, but also their families, had little entertainment, so they often spent their free time using smartphones.
At that time, I realized for the first time that there might be something I could do for patients other than medical care.
Although I was worried that I would end up being complacent, I decided to do the best I could and come up with a plan that would help the patients enjoy their hospital stay more.
As a result, I finally decided to create an illustrated book about living things, food, vehicles, numbers, etc., and a poster introducing an application that allows studying using a smartphone.
We came up with the idea for the former based on our hope that it would be an opportunity for children to learn something new, and that they would be able to share as much time as possible with their families and friends through the book, rather than playing alone as they do with their smartphones.
The latter idea was born from the fact that many children and their families wanted to study, and that smartphones were more popular than we had imagined, as well as the fact that the Cambodian government was rapidly introducing online education in the wake of the Corona disaster.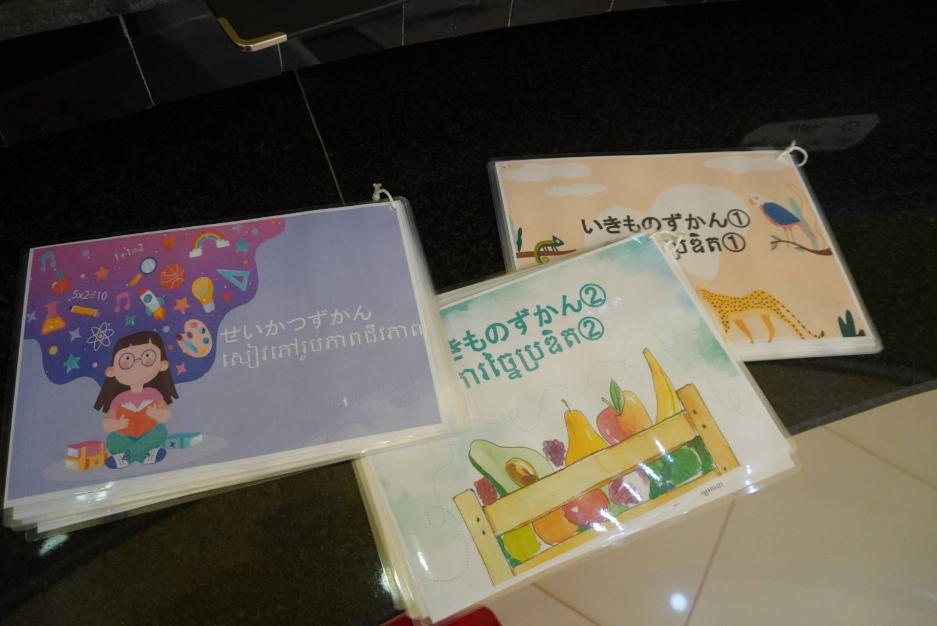 Although it took an unexpectedly long time to create each of these, I felt that the time was very fulfilling when I imagined the patients being able to see the fruit of the work. Then I finally finished it, I was filled with anxiety, wondering if children would be happy with it or if they would even be interested in it at all. However, with the cooperation of the staff, the picture book was placed on the bookshelf and the posters were introduced to the patients.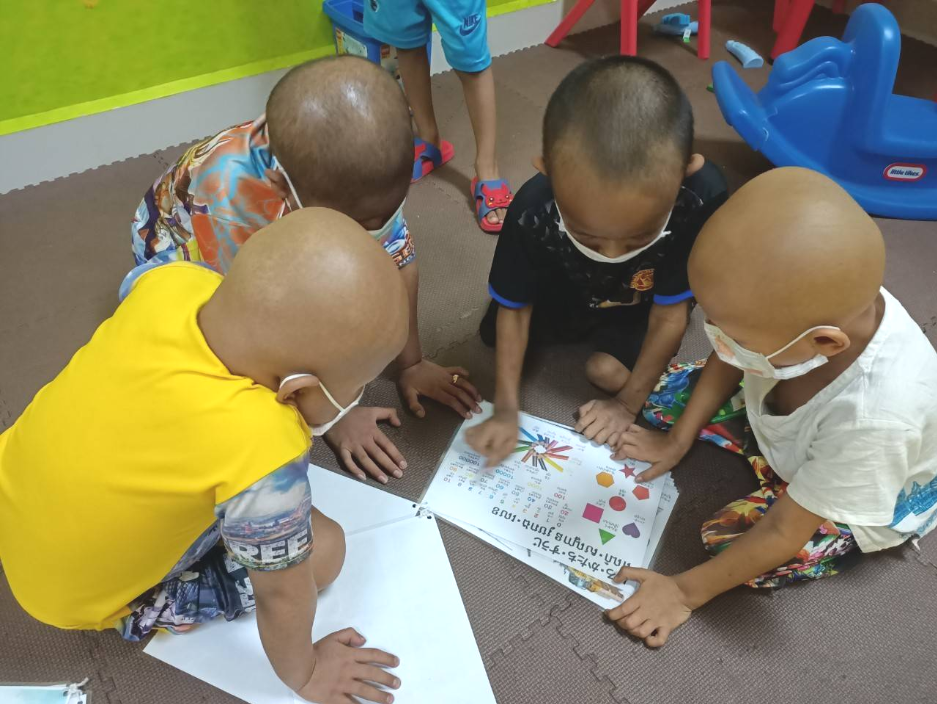 The next day, as I was facing my computer, hiding my anxiety about my work, I heard the cheerful voices of children from afar.
I checked on them and found that they were pointing to pictures in an illustrated book, asking the nurse for Japanese words, and reciting them in a loud voice.
The nurse also informed me that some of the children were immediately studying the video.
I will never forget the elation I felt at that time. Compared to the doctors and nurses, what I can do is just a trifle.
However, it was an irreplaceable experience that made me realize that there must be something I can do.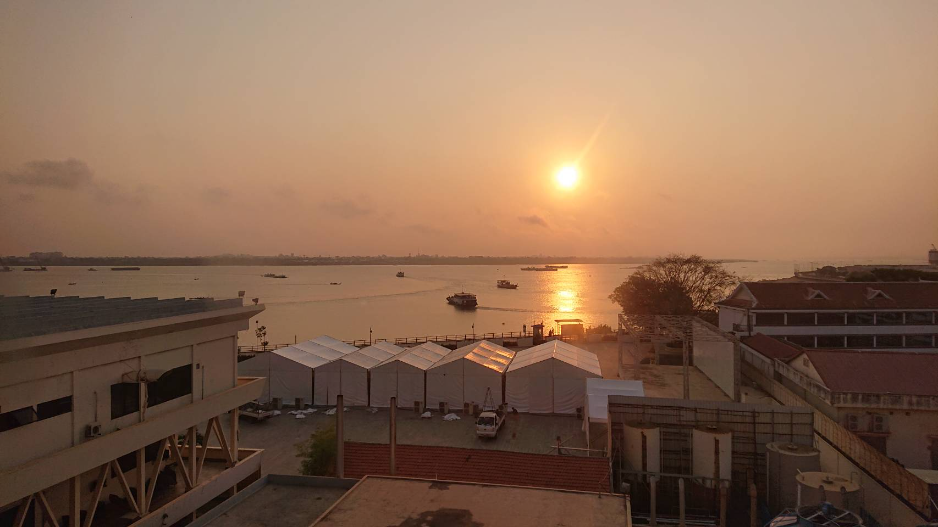 The sunrise from the hotel during the quarantine
Don't give up if you can't do something, but pursue what you can.
I am sure that these words will help me in many situations in the future.
I would like to keep this lesson, which I gained thanks to the staff and patients, in mind in the future.
Cambodia Student Intern Morita